PROJECT TYPE:
Personal Branding development
OBJECTIVE:
Create cool, effective new branding for my
myself
as a designer and illustrator.
CHALLENGE:
Have branding elements and aesthetic display as organic and illustrative, but also as clean and geometric to encompass my full design style.
SOLUTION:
I came up with a branding system that represents my evolving design style. I incorporated elements that were organic and illustrative with elements that were more refined to combine my two sides as an illustrator and a designer. I developed a color scheme that represents me and the colors I tend to lean towards, while not being overly flamboyant and loud. I chose hand-drawn type for my logo and a clean sans-serif typeface for all other text.
LOGO & BUSINESS CARD PROCESS
Wanting an organic, hand drawn logo, I decided to create one by hand and then adjust and add onto the ideas on the computer as needed. Inspired by past
works
of mine where I used very blobby, organic type to fill up space, I decided to create a nameplate in this style.
After playing around a bit with the initial rendition of this nameplate, I decided to add a drop shadow in order to add more dimension and interest, and also to create more contrast. Since I work a lot with both dark and light backgrounds, I had to ensure visibility of the nameplate on both light and dark backgrounds, therefore I had to choose the colors accordingly. 
Initially starting with horizontal business card ideas, I wanted to rely more on composition and simple graphic elements as I had with my previous personal branding system. I played around with various colors and arrangements, but then I realized that since my design style has evolved since I created my last identity branding system, I needed to rethink this one completely in order for it to represent who I am now as a designer and illustrator.
Having wanted to incorporate a blue-green color into my color scheme, I started off with pairing various shades of blue-green with yellows and other hues to get a palette that looked like all the colors were mixed with the same base ink colors to have good continuity. However, I decided that these schemes, although vibrant and attention grabbing, didn't also convey the cleaner design aspect that I was wanting to attain alongside the organic, hand-drawn elements of the logo. I settled on choosing a blue-green that looked good on both dark and light backgrounds, and then built up the palette with shades and tints of this color that provided enough contrast between one another but still looked good together as a whole.  
FINAL BUSINESS CARD & STICKER
After rethinking my approach to my business cards, I decided to have the card feature a hand drawn illustration since illustration is one of my strong suits. Also, this way my card could better reflect me and all my works. I then drew the background image of my website landing page since many of my personal illustrations contain much of the subject matter found in the image. After drawing the illustration by hand in order to have it best resemble my personal pieces, I brought it into illustrator and vectorized it then adjusted the colors to match my branding palette and appear more cohesive with my established system.
I designed this sticker almost as a second business card that's simplified and meant to be viewed quickly and only getting across the most essential of information. As an advertisement for myself, this sticker is meant to be out in the streets or on anything that gets viewed by many.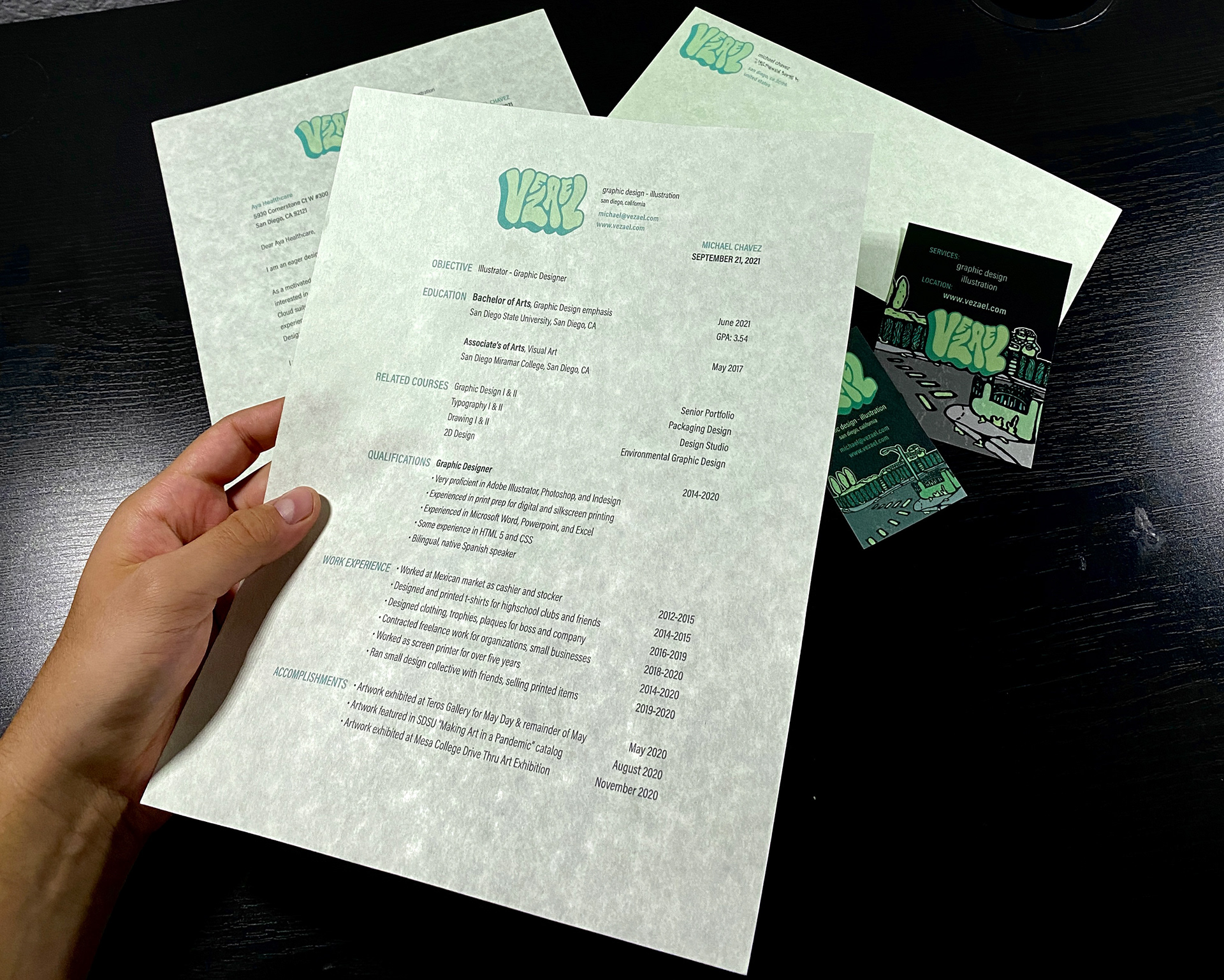 Since my business card and sticker designs both had the main elements aligned to the center, I felt that I should do the same to the branding assets within my letterhead and envelope designs. However, I offset the text to the side of the logo to more efficiently utilize space and to create some variation within the lockups across the mediums that the branding is being applied to.
I decided to use a light green parchment style paper as a nod to the green colors I've been using throughout my system so far, and also as a way to maintain the slight texture that appears throughout my collateral pieces. Using the same dark teal-gray color in the copy text instead of black, it creates continuity throughout my brand while also having the text appear slightly less harshly than a very rich black would, especially when set on the light green paper I used.