This series was started just as a way for me to document some scenes or common views I'd see while growing up. It then kind of converted also into a way to document different little occurrences or situations or whatever that I'd see or experience around me, kind of as a reminder to myself and whoever looks at my work that the community (or I guess neighborhood in this sense) that you may live in can have its moments of joy and bonding, and it can also have its moments of conflict and issue, sometimes directed internally and sometimes externally.
As the first piece of the series, "Coverings" was just going to be a piece where I showed how I liked how the graffiti coverings looked on the walls and fences around town, and how I liked people tagging over them again. The texts I added in this illustration are just my own sort of thoughts though, sadly people don't usually write these kinds of things around here. I just hate cops and love the homies B-). It was with this illustration though, where I started to realize how I really like some certain visual aspects of the area of San Diego I grew up in, called
Mira Mesa
. As a denser suburban area on generally flat but also slightly hilly terrain, many of the houses lay in front of one another in certain ways that when seen at some angles create very cool or interesting compositions and shapes. This originally wasn't even going to be a series really until like the third drawing I did in it, however this piece set the aesthetic and the visual tone for the series and led me to focus on the occurrences and the sights I encounter here in my home town in future pieces.
This piece titled "I Just Wanna Kick It" touches on the issue of trying to connect with and see friends during this pandemic, but also for me is just a visualization of me really missing just having some good homies to kick it with in the first place. The very small group of homies I'd kick it with for the past couple years fell apart because it turns out one of them was an abuser. Before them though, I would kick it with my homies from high school a lot until about a year after I graduated then we kind of just drifted sadly. So now I don't really have a solid group of homies for the first time since I don't even know when, and everything with the pandemic has not made it easier lol. Luckily though I got my partner and we have a little group of friends (love u guys if y'all see this).
This piece titled "Cruisin" shows the situations I find myself in while walking or biking where someone shouts some dumb shit from a car at me or someone in their car cuts too close to me since I'm in the road on my bike due to San Diego having the worst fuckin biking infrastructure (Mira Mesa has like three streets that have bike lanes, and then only for like two blocks at a time). Sometimes I'd yell back at the harassers in vain as they'd already be like two hundred feet away, sometimes I'd just keep walking because what can you do, sometimes I'd confront and ask what's the deal as they then pass and say nothing. 
As the main piece of this series, this piece titled "All In" is where I stole the name for the series itself from, because up until this point I hadn't really considered it having it be an actual cohesive series, and I feel the name is appropriate for the series as a whole. This piece was drawn on a 13x19" sheet of paper, unlike the previous illustrations which were only 9x12". This one was intended to be more in-depth and detailed, covering many aspects of what goes on in a neighborhood or community (depending on what definition of "community" we are using here). I wanted to show some sights I see and feelings I feel while out and about here in Mira Mesa. All the good, the bad, the scary, the funny, I wanted to show it all together since everything together does make up a community.
This latest piece, titled "Lookout" is an exaggerated scene of just some tagging. When I'm out and about doing some scribbles, it is nice sometimes to have a lookout. Since I usually do that while I go out biking or walking during the middle of the day, it can feel like there's people staring right at me even when there isn't anyone nearby. Like the first piece in this series, most of the messages on the walls and the ground in this piece are just some of my own feelings for the most part superimposed onto this scene. However, there is an artist in Mira Mesa named Natalia Quintero (@njq.quintero on ig) who does put up some signs with messages like "Love & Peace" that I appreciate seeing and wanted to include in this piece (example below).  A side note: I always like to include lowered modified cars in my drawings that contain cars because in Mira Mesa, all the people who were into cars and very many of my friends would modify their cars in this sort of way, some being more flamboyant and some more clean and lowkey.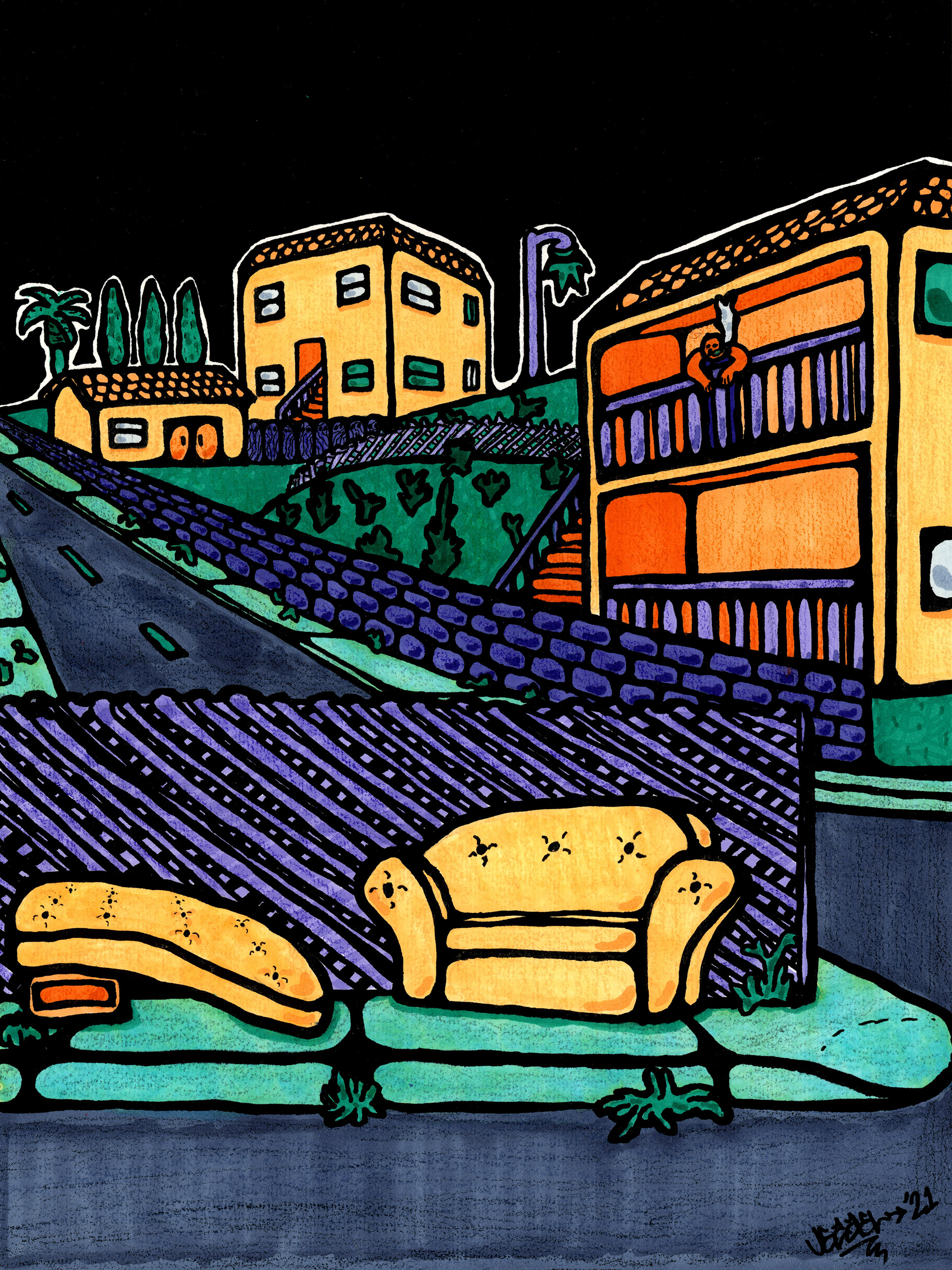 Whenever I go out around town on my bike or walking, I always see at least one mattress, sofa, or chair or something like that left out on the sidewalk. It's pretty funny to me just how many people don't wanna pay to dump whatever it is they need to get rid of so they throw it out on the street for the city to take care of it. Finally our tax dollars getting put to use.
With this drawing I just wanted to show some things I see around town. Like I see hella lowered and modified cars aside from my own, and I think i's dope that people in Mira Mesa, along with other areas of SD, have this culture of modifying our cars in this Japanese influenced way, whether it's like drift car mods, or like VIP stylizing, or some other kind of JDM shit. I've also seen people skating around since forever. Mira Mesa has always had a very prevalent skateboarding culture, I feel though that it kinda declined a bit towards the end of my time in high school, but now when I drive home from work or go out and cruise on my bike I see the young kids out skating and it's sick to see them taking it up. It's also been sad seeing all the road side memorials you will see for people who've died in car accidents and such. I'll also see from time to time some nerdy ass fools jogging and you can tell they just moved here because they will have no clothing on except the tiniest of shorts on and like sunglasses or some shit lol and they're always like 30 year old white dudes. I have been also seeing new tag names pop up here and there, and although it might not be the craziest pieces or whatever, I like seeing them still. Sometimes I'll just see some people kickin it too in their garage or on their balcony or porch or whatever just enjoying the day and the air. One thing I've been seeing a lot of lately, though, is construction. It's mostly new buildings in what used to be empty lots, or parking lots, or more recently in peoples' backyards constructing accessory dwelling units with the passing of that one bill or whatever.